Conception: Please Give Birth to My Child!
(Conception: Ore no Kodomo o Undekure!
コンセプション 俺の子供を産ん
でくれ!
)
is a PSP Game developed and published by Spike, released only in Japan on April 26, 2012.  
The game starts with a highschool student, Itsuki who on graduation day met with his cousin, Mahiru. To later being explained that she is pregnant! Suddenly a gate of light appears and transports them to a new world...A world called granvania. A world of magic which is called 'Star energy'. Mahiru has been selected as one of the twelve star maidens to serve the zodiac horoscope as a replacement for one of the previous twelve for Virgo. As for Itsuki, he must be the father of the star children and guide them through the labyrinths to prevent the chaos of impurities to ruin Granvania. This or...Itsuki and Mahiru may never be able to return home.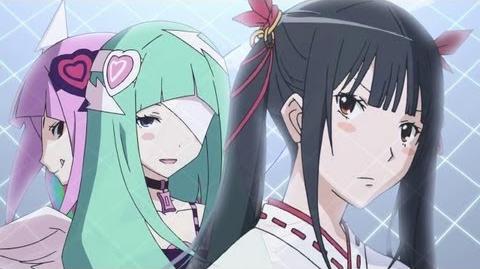 The game is based around dungeon-crawling and turn-based battles with star children . Star children are warriors containg star energy and are teamed with Itsuki in groups of four-with a total of twelve- to battle in an area of monsters. Monsters weak point is highlighted in pink, however to gain more EXP and money, battles have to be longer so by chaining battles and making it longer gives more results.
As for the RPG dating simulation of the game, this happens within the school and twelve of the star maidens are available to contact. By bonding with the star maidens increases the power of the star children. 
Other Links
Edit